MEAL SERVICE
There are two meal options for families: the school canteen service or individual lunchboxes (to be brought in). Canteen registration: snacks and lunch are provided by our partner Compass Group (Chartwells). Lunchbox: children can bring in their own snacks and lunches in airtight, thermal boxes and bags bearing their names.
La Petite Ecole offers a bus service provided by an external provider, facilitating transport to and from school for pupils. We have been working with the D'Best Bus Transport Service since 2015.
For more information, please contact the D'Best Bus Transport Service:
The D'Best Bus Transport Service sets timetables and fares according to one's location. The school publishes an annual School Transport Booklet containing practical information and rules for the transportation of pupils.
A door-to-door service is in operation, picking up your child from your home and dropping them off at your doorstep — a location pre-determined with the bus company. D'best Bus Transport also offers a bus service after extracurricular activities and during holiday camps.
The company counts on a team of experienced, reliable and professional drivers and attendants, who supervise the children and ensure safe travel for all. Its fleet is comprised of small modern buses, all fitted with air conditioning. All seats are also equipped with seat belts, ensuring child safety during journeys. All bus passengers, children, drivers and attendants are insured.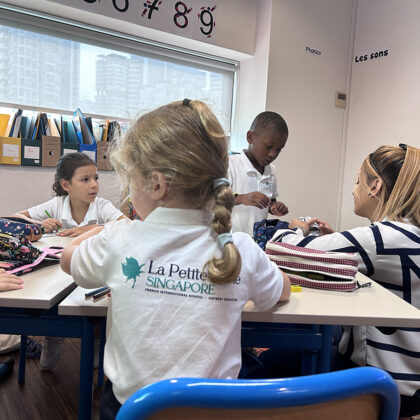 School Supplies
At La Petite Ecole, we provide the school supplies that children need for their schoolwork. All students at La Petite Ecole must wear a uniform every day of the week.
Price for one set:
Kindergarten : $80
Primary : $115
Additional items (10% discount):
Polo: $15.30 ($17)
Shorts / Skirt: $22.50 ($25)
Sport T-shirt: $14.40 ($16)
Sport shorts: $12.60 ($14)
Do you need any further information?
The Admissions Office team will be happy to answer any questions you may have.