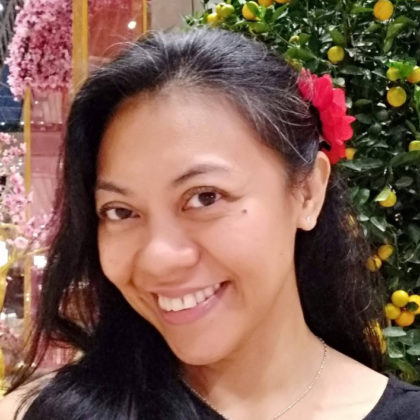 Sarah
Preschool assistant - MS
Hello! My name is Sarah. Born and bred in Singapore, I am a proud mother of 2 beautiful boys. My husband and I are both teachers and we truly love children. It was an easy decision for us to embark on a fostering journey. It has been more than 5 fulfilling years and we're still loving it. That is why I had stepped down from my professional role to being an assistant teacher so that I can dedicate my precious time to my young children. Besides dancing in the rain and jumping in the puddle with my boys, I love to have a picnic on the beach, go on a bike ride and travel to new places.
It has always been my dream to teach. In 2002 that dream came true and I have never looked back since. I have worked in several International pre-schools mostly with Dutch, Japanese and Korean children. I have enjoyed listening to all their stories and helped them navigate through their learning journey. Indeed, working with young children for 18 years has given me much joy and pleasure!
In my years of teaching, I have been described as a warm, passionate and nurturing teacher. In this busy and distracting world of technology, I believe that we need to take time to stop and listen to our children. Ponder and awe with them about the beauty of nature around us. Henceforth, I am delighted to be given the opportunity to work at La Petite Ecole. Hand in hand, I'd love to continue my learning journey to see the world through the kaleidoscopic lens of the French children. I am ready to immerse myself in the beautiful French culture and in supporting the children to bring out the best in each of them.